Convenient cashless payments everywhere in the world. 24/7 online access to Your funds.
Loading by transfer from more than 40 banks all over the world. Elastic transaction limits.
Multicurrency plastic card
Issuance
of the first card
FREE
Order the card
Physical Mastercard card for both individual user
The card is embossed, has modern M/Chip Advance technology, contactless NFC payments and traditional magnet strip – full versatility and convenience on the go
Possibility of additional card order for the same account
FREE multicurrency account in addition to the card, serving 17 currencies
Registration, order and cards management online
Card delivery in any place all over the world
Creating subaccounts hierarchy function
Account deputies and creating cards groups within one IgoriaCard wallet
Flexible access and limits management by IgoriaCard account administrator
Currency exchange on the platform with access to 136 currency pairs
Loading the card using BLIK
Free transfers in most of polish banks
IgoriaCard gives the possibility of paying inmore than 120 currencies all over the world – automatically adjusts to local currency of country you're in.
Multicurrency virtual card
Virtual Mastercard card fot iboth individual user
Perfect choice for online payments in foreign currencies
Additional safety thanks to blocking/unblocking possibility at any time
Card issued right away to registered users of IgoriaCard platform and ready for activation in few minutes since order
Possibility of ordering the virtual card to the same account as the physical card or to the auxiliary account
Loading the card using BLIK
Free transfers in most of polish banks
In the package with a FREE card, a multi-currency account for 17 currencies
Access and pay off limits management by the IgoriaCard account administrator
Currency exchange on the platform allows access to 136 currency pairs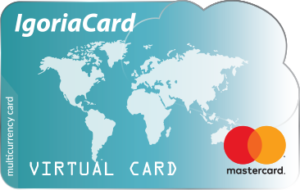 Issuance
of the first card FREE
IgoriaCard currency exchange will automatically exchange the currency for You at the best rate.
---
IgoriaCard settles the transactions directly from 17 currency accounts
or makes an automatic FX transaction at the best possible rate.
Adam

CEO&Founder

IgoriaCard has made it easier for our company to settle payments, in particular those made during business trips. Automated system allows to control company's expenses and to minimize its costs.

Izabela

CEO

I made the decision to order IgoriaCard right after I found out that there are 17 currencies on one card. By having the access to a multicurrency wallet, I can quickly pay with a card not only on the Internet, but also abroad. I have only one card for all kind of payments – it's really convenient! IgoriaCard is worth recommending to all people who make daily transactions in different currencies.

Monika

Office Manager

We settle with counterparties in a variety of currencies. It took us a long time to find a solution that will help reduce the costs of transactions and currency exchange. Thanks to IgoriaCard we can settle with our business partners all over the world, exchange currency at favorable rates and use virtual multicurrency cards to settle daily payments.